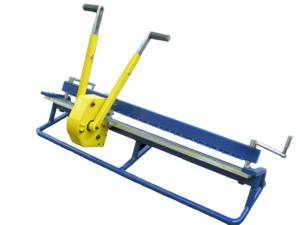 | | |
| --- | --- |
| Reference | Description |
| 113301 | T30- Levermatic Tool – 36" (900mm) |
| 113303 | T30- Levermatic Tool – 42" (1050mm) |
| 113305 | T30- Levermatic Tool – 48" (1200mm) |
| 13307 | T30- Levermatic Tool – 54" (1400mm) |
| 113308 | T30- Levermatic Tool – 60" (1600mm) |
| 113205 | X-5 – 38 Hydraulic Fixing Tool – (1200mm) |
| 113207 | X-5 – 38 Hydraulic Fixing Tool – (1400mm) |
| 113208 | X-5 – 38 Hydraulic Fixing Tool – (1600mm) |
| | |
| --- | --- |
| Reference | Description |
| 104203 | T10 Levermatic Tool 42" (1050mm) |
| 104205 | T10 Levermatic Tool 48" (1050mm) |
| 108203 | T12 Levermatic Tool 42" (1050mm) |
| 108205 | T12 Levermatic Tool 48" (1200mm) |
| 108301 | T12 Replacement Head |
| 113403 | T-Series Levermatic Frame 42" |
| 113405 | T-Series Levermatic Frame 48" |
Description:
Lightweight, aluminum body.

Corrosion Resistant.

Adjustable steel scissors.

Designed specifically for the heavy-duty belt applications.
Operation:
Using the correct Belt Clamp will directly impact the safety and reliability of the conveyor belt.

Clamping scissors slide into place for easy adjustability.

The clamp bar pins simplify the alignment and positioning of belt.

Works on a variety of belt widths eliminating the need for a variety of different belt clamps.

Ridged cut design of bars creates an even tension and secure grip across the entire belt width.

Suitable for belt thickness of 3/8" (10mm) up to 1" (25mm) with tensile approximately 3 tons (approx. 6000 lbs)
The Conveyor Belt Puller is designed to assist with the safe movement of the conveyor belt during belt installation and belt joining procedures.

It alleviates the problems of slippage associated with moving conveyor belt manually using unsatisfactory strength and grip

The Conveyor Belt Puller enhances the holding strength on the belt through the final lever.

The handle has a comfortable feeling and increases the users' functional strength.

Made of stainless steel, the conveyor belt puller is robust, light and easy to carry.

You can unscrew the top bolts to adjust the opening for belts with a larger belt thickness

Application belt thickness: 5 to 26 mm

Net weight : 1.5 lbs
Designed for easy operation and the greatest possible safety features even within a confined workspace.

Can be used on heavy duty rubber or PVC belt up to 1" thick.

Heavy duty chain driven.

Small teeth for gripping the belt.

Removable ratchet.

Heavy duty steel construction.
Belt Widths

Description

Product Number

42"

1050mm

42" Belt Cutter

208202

48"

1200mm

48" Belt Cutter

208203

60"

1500mm

60" Belt Cutter

208205

72"

1800mm

72" Belt Cutter

208207
Conveyor Belt Mechanical Fasteners Tool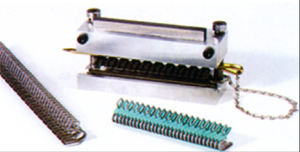 T183 Vice Tool: Mounted on a vice, it allows the splicing of a 180 mm (7″) wide belt (10 fasteners) in one setting and is open-ended for continuous lacing for wider belts.